Landlord Liability for Mold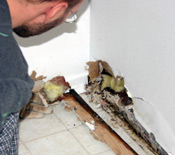 If you live in a rented apartment unit or building, contact your landlord if you encounter any mold-related problems. It is your landlord's responsibility to fix a mold problem in your apartment, so first report the problem to your landlord. Document any and all correspondence. You may want to send your landlord a certified letter if there is no onsite manager available.
Water is necessary for mold to grow. Your landlord is responsible for properly cleaning up any mold infestation and for repairing any conditions that are keeping your apartment wet. This may plumbing, HVAC or air filtration issues.

Certain fixes may be expensive, such as replacing pipes between the walls or in adjacent apartments, fixing the roof, or repairing the outside walls of  the building. Your landlord has liability to make whatever repairs are necessary to cure the problem.  If mold problem is remediated but the water source isn't stopped, the mold will eventually come back, often worse than before.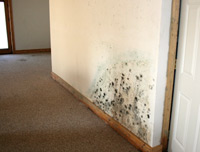 If your landlord fails to act promptly, they can be held liable through the courts. You can start this on your own, or with a group of other tenants from the same building.
If damage to personal property was caused by the landlord's negligence, you may also have a claim against your landlord in small claims court. Keep receipts of all expenses related to inspections, items, medical bills related to the issue, and cleanup. You might be able to avoid court by negotiating with your landlord.
You also have the right by law to withhold your rent, and when your landlord sues to evict you and collect unpaid rent, to ask for an abatement (a reduction in the amount owed.) However, there are numerous potentially serious consequences for withholding rent. Always seek the counsel of an experienced tenant lawyer or tenant advocate before deciding to withhold rent.
If you are a building owner or landlord in Manhattan, Queens or the Bronx and have received violation notices for mold, we can perform a free visual inspection and provide an estimate for you.
Unfortunately, we cannot set up any appointments through tenants – everything must be done through the landlord or homeowner.
Contact us today for a free consultation!